1 replacement option found
Existing pump - Circulation
Product name
LRL 405-10,5/0,12
Pipe Connection
DN 50 PN10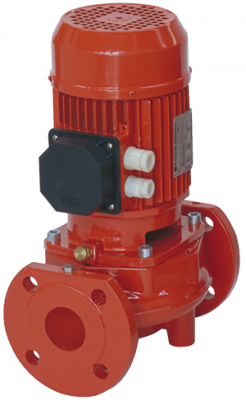 Product name
IPL 50/105-0,12/4
Pipe Connection
DN 50 PN10
Fluid temperature range
-20 - +120 °C
Comment
Fits without any modification of piping.
Product information
IPL 50/105-0,12/4
IPL 50/105-0,12/4
Item no.: 2150344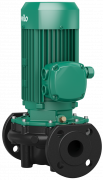 Your advantages

High standard of corrosion protection thanks to cataphoretic coating
Standard condensate drainage holes in the motor housings and lanterns
Series design: motor with one-piece shaft
Version N: Standard motor V1 with stainless steel plug shaft
Bidirectional, force-flushed mechanical seal
Construction
Glanded pump in in-line design with screwed connection or flange connection.

Application
Pumping of heating water (acc. to VDI 2035), cold water and water/glycol mixtures without abrasive substances in heating, cold water and cooling systems.

Scope of delivery

Pump
Installation and operating instructions
Technical data

Permissible temperature range -20 °C to +120 °C
Mains connection 3~400 V, 50 Hz (others on request)
Protection class IP 55
Nominal diameter Rp 1 to DN 100
Max. operating pressure 10 bar (special version: 16 bar)
Materials

Pump housing and lantern: EN-GJL-250
Impeller: PPO fibreglass-reinforced EN-GJL-200 (depending on pump type)
Shaft: 1.4021
Mechanical seal: AQEGG; other mechanical seals on request
Description/construction
Single-stage, low-pressure centrifugal pump in in-line design with:

Mechanical seal
Flange connection with pressure measuring connection R 1/8
Motor with one-piece shaft
COUNTER FLANGE KIT DN50 PN10
Item no.: 2105581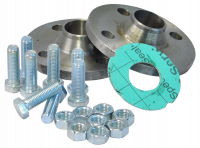 Mating flanges:

Made of steel.
Counter flanges (weld) are delivered complete (in pairs) with bolt, nut and flange gasket.
Flange gasket DN 50 PN6/10
Item no.: 2150974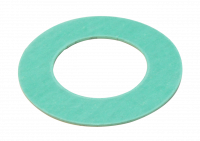 Flange gasket DN 50 PN6 / 10, Klingersil:

Thickness: 2 mm.
Inner diameter: 61 mm.
Outer diameter: 96 mm.
SWITCH BOX SK602N
Item no.: 2120444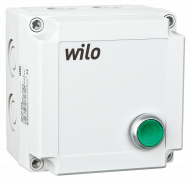 Wall-mounted unit for electrical connection of single-phase and three-phase pumps with integrated thermal winding contacts (WSK) for monitoring the winding temperature (full motor protection).
Automatic reactivation of pump after power failure and automatic fault acknowledgement after cooling off of the motor.

Equipment/function:

Full motor protection tripping unit for pumps with thermal winding contact (WSK)
Switch on/off with integrated run signal light
Terminals for external, potential-free activation/deactivation
Connection terminal strip
SWITCH BOX SK622N
Item no.: 2120445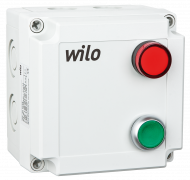 Wall-mounted unit for electrical connection of single-phase and three-phase pumps with integrated thermal winding contacts (WSK) for monitoring the winding temperature (full motor protection) and external run/fault signal.
Automatic reactivation of pump after power failure and automatic fault acknowledgement after cooling off of the motor.

Equipment/function:

Full motor protection tripping unit for pumps with thermal winding contact (WSK)
Switch on/off with integrated run signal light
Fault signal light
Terminals for external, potential-free activation/deactivation
Potential-free contacts for external run signal (SBM) and fault signal (SSM)
Connection terminal strip
Scope of delivery:

Switchgear SK 622N
4 threaded cable connections M20
Installation and operating instructions